New Zealand's most dynamic sports 4x4
Bold and undeniably dynamic, the new Colorado SportsCat is in a league of its own. Get behind the wheel and you'll quickly discover you're in complete control of a 4x4 that takes driving dynamics to a whole new level. While most 4x4 work utes just play at driving enjoyment, the new Colorado SportsCat delivers it in spades.
Designed to impress
"Class-leading stature and stance, combined with bold graphics, sums up the design direction we wanted to take with the SportsCat program. We wanted our design to look strong and purposeful, yet beautifully integrated. At the same time, we also wanted to provide some visual distinction between SportsCat and SportsCat+."
Julian Quincey, HSV Chief Designer
SportsCat+ by Design
A standout in the 4x4 field, the new SportsCat+ has it over the competition in more ways than one. An increased ride-height gives the vehicle an obvious ground clearance advantage, while a distinctive 'bonnet bulge', unique outer and upper grilles, striking wheel arch fender flares and a 'splash tray' create a look that is muscular and aggressive.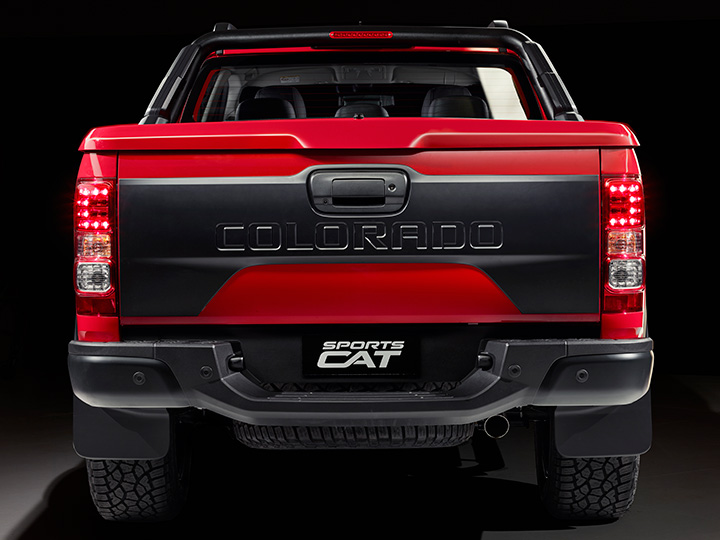 Tailgate
The look of Colorado SportsCat's rear-end is as unique and unmistakable as the front with the fitment of a custom rear applique. The tailgate also features "soft open" functionality for added convenience.
SportsCat+ shown with optional Sail Plane.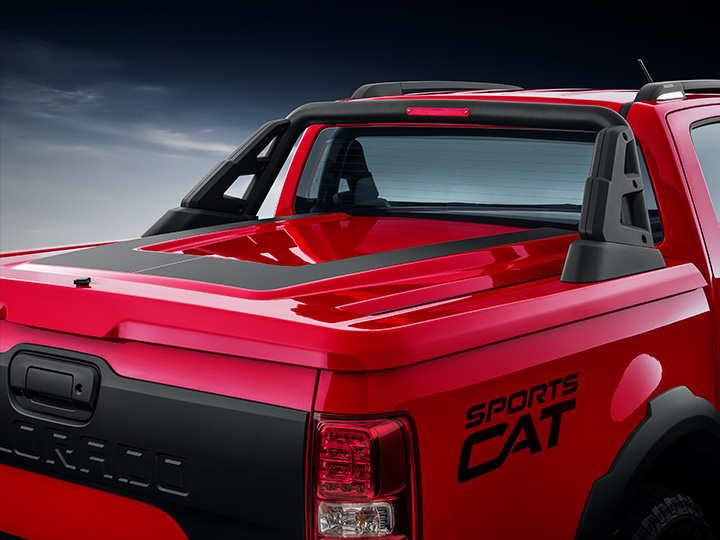 Hard Tonneau
In addition to its stylish good looks, SportsCat's hard tonneau also features handy accessory rails to help accommodate a range of storage options. The clever design of the hard tonneau also includes a "quick-release" hinge mechanism for easy and rapid removal of the lid for those instances where further cargo height is required in the tub.
SportsCat+ shown with optional Sail Plane.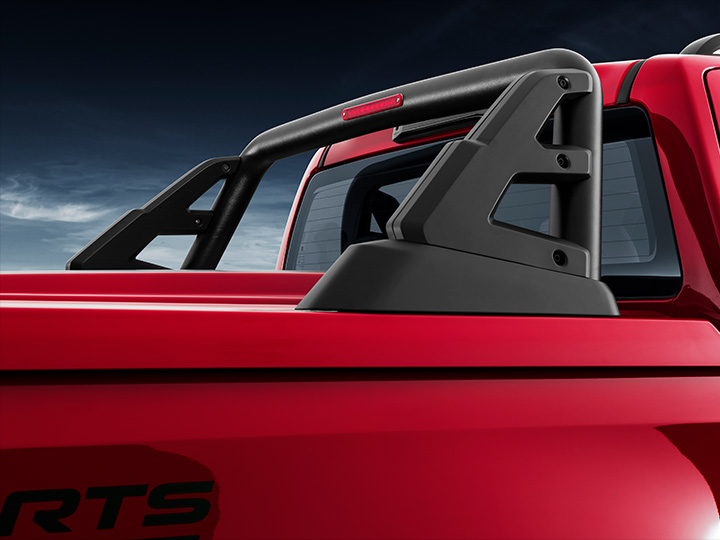 Sail Plane
The stylish Sail Plane, optional on SportsCat Look Pack and SportsCat+, features a design inspired by high-end wakeboarding boats to complement the vehicle's aggressive wheel-arches.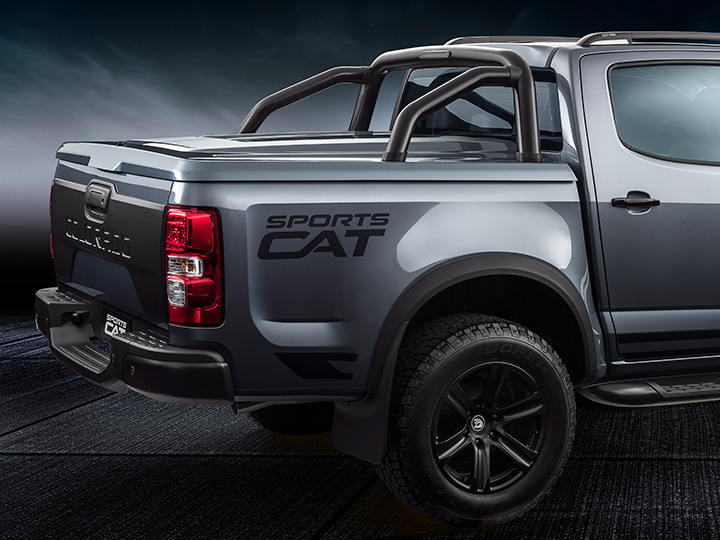 Sportsbar
SportsCat's sportsbar delivers a rugged, yet sporty, profile to the rear of the cabin.
Sophisticated sports ergonomics
The interior of the SportsCat delivers the perfect marriage of form and function. Take the wheel of the new SportsCat and the first thing you'll notice is the firm embrace of the front 6-way electric adjustable HSV Sports seats. Special treatments adorn the dash pad, door inserts, centre console cover and floor mats, while rear seat passengers enjoy a similar level of comfort and style.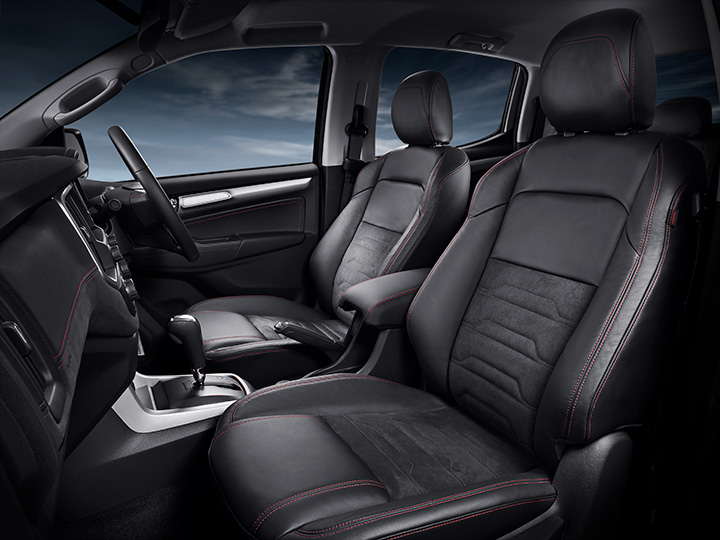 SV Sports Leather Seats
Adopting a unique profile to the seat base, along with larger bolsters for added driver and passenger support, SportsCat's seats feature a combination of Jasmine Leather and Windsor Suede with red highlight twin-needle stitching.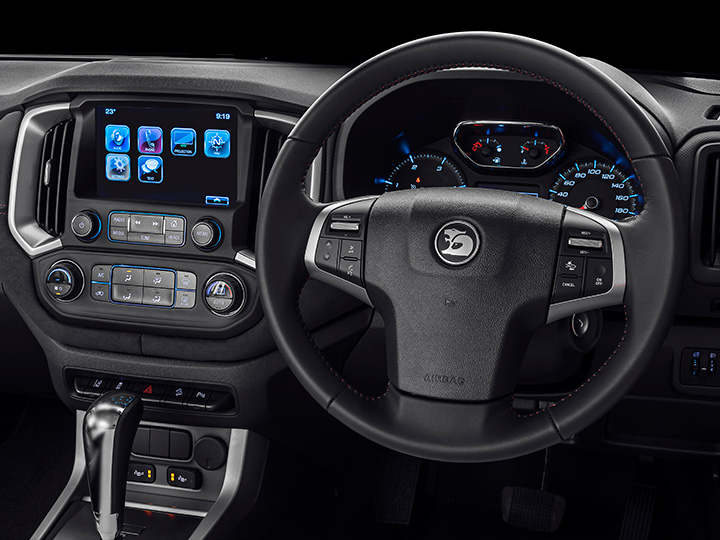 Steering Wheel
SportsCat's leather-wrapped steering wheel features red highlight stitching for that added touch of individuality and style.
Rear De-coupling Anti-roll Bar
Developed specifically for the SportsCat+ by HSV's chassis engineers, the rear de-coupling anti-roll bar improves the higher speed road driving performance of the vehicle by controlling rear roll, and thereby improving overall vehicle balance and turn-in transient response.
The de-coupling feature ensures that when heading into rugged 4x4 territory, the vehicle's suspension settings can be optimised for off-road performance: the system is automatically de-activated upon the driver's ("shift-on-the-fly") selection of Four-Wheel Low.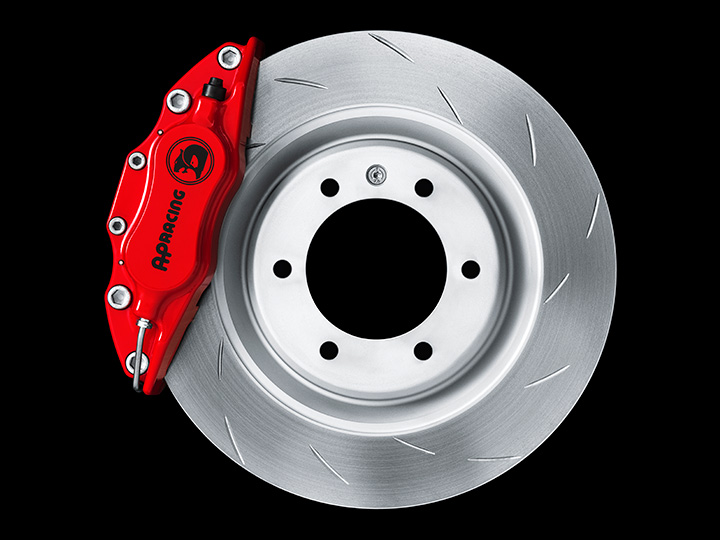 AP Racing Brake Package
The same brand as used on the GTSR range, this premium brake package features forged 4-piston fixed head calipers with large brake master cylinders and 362mm x 32mm front rotors to deliver superior pedal feel and braking performance.
Suspension
HSV Sports Suspension
Both SportsCat models feature HSV Sports suspension with the front spring rate stiffened to 110 Newtons/mm. This spring rate helps deliver outstanding front-end support with less body roll and more accurate transient response. The vehicle's MTV dampers have also been tuned to suit this spring rate with the overall result being a more performance-based handling characteristic.
In addition to the increased spring rate, front ride height has been lifted by 25mm. This modification further improves the approach angle of the vehicle, increases ground clearance to the body and reduces the overall rake, delivering a more natural on-road stance.
SupaShock Suspension
SupaShock Suspension, as introduced to the New Zealand market on HSV's iconic GTSR W1, will also be available as a factory-fitted option on the SportsCat+, taking the vehicle's suspension capabilities to another level yet again. These linear-style dampers are significantly larger than regular dampers, delivering the lowest frictional losses of any commercially available damper. Their adoption helps deliver superior performance and road grip without compromising ride quality or body control.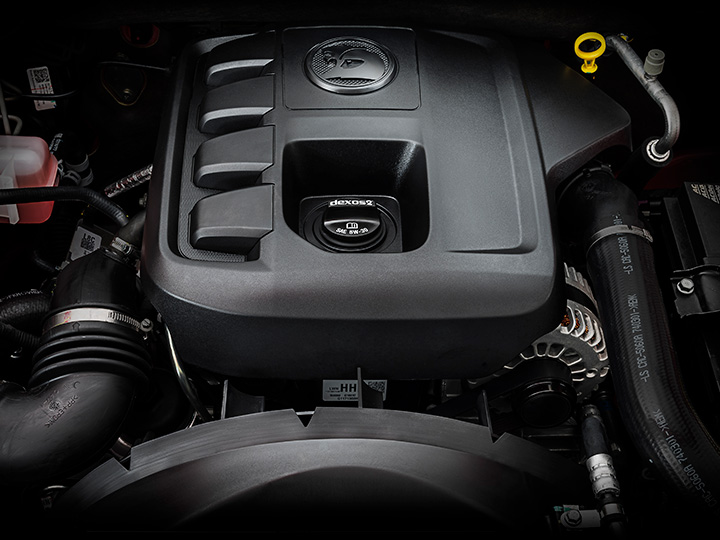 Engine & Transmissions
Both SportsCat models are powered by a 2.8 litre double overhead cam 4-cylinder common-rail injection Duramax Turbo Diesel engine that offers 147kW of power and up to 500Nm of torque when specified with the optional 6-speed automatic transmission. A 6-speed manual transmission is standard fitment.
Transfer Case ("Shift-on-the-fly")
SportsCat's 4WD system features a position shift control switch located on the centre floor console. Key settings include:
Two-Wheel High – this setting is ideal for driving in most street and highway situations. The front axle is not engaged in Two-Wheel High.
Four-Wheel High – this setting engages the front axle to help drive the vehicle. Four-Wheel High is useful when you require extra traction, such as on snowy or icy roads, or in most off-road situations.
Four-Wheel Low – this setting also engages the front axle for extra traction. It sends the maximum power to all four wheels and is an ideal selection when heading off-road. It is in this setting that the Rear De-Coupling Anti-Roll Bar is disengaged.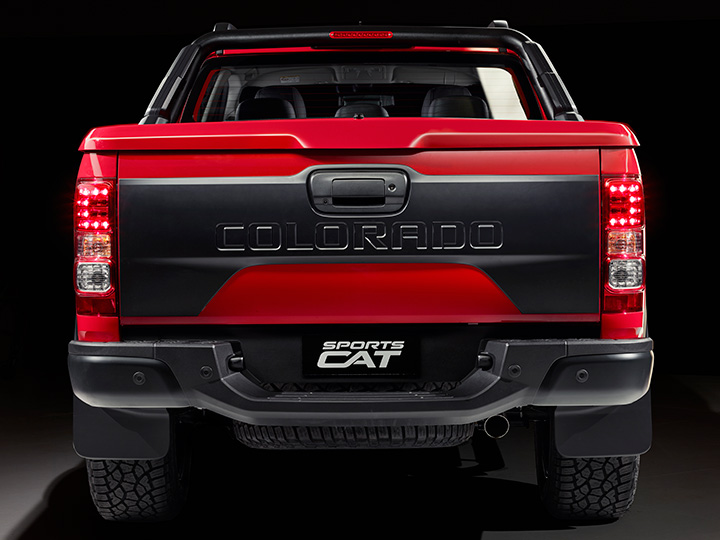 Tyres
Colorado SportsCat's stylish alloys are wrapped in Cooper Zeon LTZ Pro Sports All-Terrain tyres. These Cooper tyres are a hybrid between a sports-truck tyre and an all-terrain tyre and, in addition to their rugged off-road properties, were specially selected by HSV's chassis engineers for their outstanding on-road performance characteristics, both on tarmac and dirt roads. The overall size of the tyres (285/60 R18), and their rolling radius, also delivers a 20mm increase in vehicle ride height.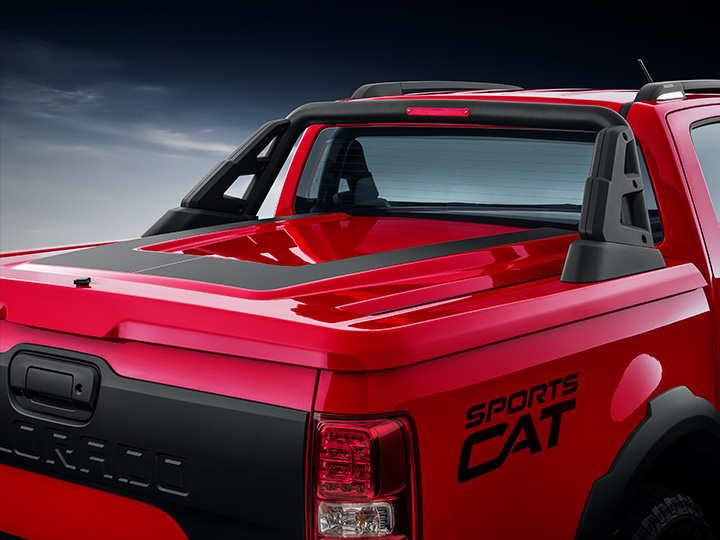 Ride Height
SportsCat sits approximately 45mm higher (at the front) than the "donor" vehicle with ~20mm emanating from the adoption of the Cooper tyre package and a further 25mm as a consequence of the front-end having been lifted. This increased ride height assists ground clearance and aids the vehicle's off-road competency.
Hill Start Assist / Hill Descent Control
Hill Start Assist prevents the vehicle from rolling away when trying to pull away on an upward or downward gradient. The system engages automatically when a gradient is detected; it then acts to hold the Sportscat stationary after the brake is released, giving the driver time to apply the throttle. Hill Descent Control utilises the active braking capability of the ESC to maintain a controlled speed when travelling down-hill.
Trailer Sway Control
The Trailer Sway Control system detects the onset of instability in trailer towing situations and intervenes to keep the trailer under control. It does this by activating the brakes and reducing engine torque. TSC utilises the combination of ABS, Traction Control, Electronic Brake-force Distribution and Electronic Brake Assist to control wheel slip, reduce wheel-spin and enhance vehicle stability and predictability while accelerating and braking.
Roll-Over Mitigation
The Roll Over Mitigation function constantly monitors the vehicle's behaviour with the help of the ESC sensors, and intervenes when the vehicle senses a roll-over situation. Roll Over Mitigation brakes individual wheels and reduces the driving torque to prevent roll over and to stabilize the vehicle.
Towing
All SportsCat models have a maximum towing capacity of 3,500kg (braked) and 750kg (unbraked).
Rain Sensing Wipers
The rain sensor, located behind the internal rear-view mirror, detects the amount of water on the windscreen and automatically regulates the frequency of the windscreen wipers.
Forward Collision Alert
Forward Collision Alert, with Head Up Warning, uses a digital camera mounted on the windscreen with state-of-the-art image processing to observe and warn you of vehicles slowing down ahead. When approaching a vehicle too quickly, the system provides a flashing alert and rapidly beeps. The system also provides a visual alert if following a vehicle too closely.
Lane Departure Warning
Lane Departure Warning helps to combat distraction and drowsiness on the road. It alerts you to any unintentional lane departures with an audible warning, keeping you and your passengers on the right track.
Explore Specifications
Performance
Technology
Interior
Exterior
Entertainment
| | | | |
| --- | --- | --- | --- |
| Engine/Transmission | SportsCat | SportsCat Look Pack | SportsCat+ |
| 2.8L 4-cylinder Duramax 2 Diesel | ■ | ■ | ■ |
| 6-speed manual transmission | ■ | ■ | ■ |
| 6-speed automatic transmission with Active Select | □ | □ | □ |
| Shift on the fly 4WD | ■ | ■ | ■ |
| Limited Slip Differential (LSD) | ■ | ■ | ■ |
| Engine sump guard | ■ | ■ | ■ |
| | | | |
| --- | --- | --- | --- |
| Safety/Handling | SportsCat | SportsCat Look Pack | SportsCat+ |
| Forward Collision Alert (FCA) | ■ | ■ | ■ |
| Lane Departure Warning (LDW) | ■ | ■ | ■ |
| Front airbags for driver and front passenger | ■ | ■ | ■ |
| Front seat side impact airbags | ■ | ■ | ■ |
| Full length side curtain airbags | ■ | ■ | ■ |
| Driver knee airbag | ■ | ■ | ■ |
| AP Racing forged 4-piston brake calipers (362mm discs) - front | - | - | ■ |
| Front disc brakes | ■ | ■ | - |
| Tyre pressure monitoring / indicator | ■ | ■ | ■ |
| High ride height | ■ | ■ | ■ |
| HSV Sports Suspension (independent double wishbone, coil spring – front; leaf spring - rear) | ■ | ■ | ■ |
| SupaShock Suspension | - | - | □ |
| Rear De-coupling anti-roll bar | - | - | ■ |
| Electronic Stability Control (ESC) incorporating: Anti-lock Braking System (ABS), Electronic Brakeforce Distribution (EBD), Roll Over Mitigation (ROM) | ■ | ■ | ■ |
| Traction Control System (TCS) | ■ | ■ | ■ |
| Hill Start Assist (HSA) | ■ | ■ | ■ |
| Trailer Sway Control (TSC) | ■ | ■ | ■ |
| Hill Descent Control (HDC) | ■ | ■ | ■ |
| Electric Power Steering (EPS) | ■ | ■ | ■ |
| Front seatbelt sash height adjust | ■ | ■ | ■ |
| Rear 3-point lap sash seatbelts | ■ | ■ | ■ |
| Automatic Locking Retractor (ALR) - Rear Seat | ■ | ■ | ■ |
| Driver and front passenger seatbelt warning lamp and tone | ■ | ■ | ■ |
| Rear seat seatbelt warning reminder | ■ | ■ | ■ |
| Rear seat child restraint anchor points (3) | ■ | ■ | ■ |
| ISOFIX child restraint anchor point | ■ | ■ | ■ |
| Security | | | |
| Alarm | ■ | ■ | ■ |
| Remote keyless entry | ■ | ■ | ■ |
| Tailgate lock | ■ | ■ | ■ |
| Engine immobiliser | ■ | ■ | ■ |
| Flip keys (2) | ■ | ■ | ■ |
| | | | |
| --- | --- | --- | --- |
| Driver | SportsCat | SportsCat Look Pack | SportsCat+ |
| Remote Start (auto only) | ■ | ■ | ■ |
| Bluetooth® connectivity | ■ | ■ | ■ |
| Electronic cruise control | ■ | ■ | ■ |
| Driver's foot rest | ■ | ■ | ■ |
| Rear-view camera | ■ | ■ | ■ |
| Rear Park Assist | ■ | ■ | ■ |
| Front Park Assist | ■ | ■ | ■ |
| Enhanced multi-function display: vehicle information menu, trip information menu, fuel economy menu, warning/messages | ■ | ■ | ■ |
| Power adjustable exterior mirrors | ■ | ■ | ■ |
| Power folding exterior mirrors | ■ | ■ | ■ |
| Electrochromatic (light sensitive) rear view mirror | ■ | ■ | ■ |
| Steering wheel height adjust | ■ | ■ | ■ |
| Multifunction steering wheel controls featuring: Bluetooth®, Cruise control, Audio controls | ■ | ■ | ■ |
| Leather wrap steering wheel | ■ | ■ | ■ |
| Premium gear selector (manual) | ■ | ■ | ■ |
| Chrome gear selector (automatic) | ■ | ■ | ■ |
| Variable intermittent wipers | ■ | ■ | ■ |
| Rain sensing wipers | ■ | ■ | ■ |
| Rear window demister | ■ | ■ | ■ |
| Cabin Comfort | | | |
| Air conditioning with pollen filter | ■ | ■ | ■ |
| Electronic climate control | ■ | ■ | ■ |
| Power windows, with express driver and passenger up and down | ■ | ■ | ■ |
| Power windows, with express rear passenger up and down | ■ | ■ | ■ |
| Remote window activation via keyfob | ■ | ■ | ■ |
| Dual front reading lamps | ■ | ■ | ■ |
| Centre dome lamp | ■ | ■ | ■ |
| Two 12 volt power outlets in centre dash | ■ | ■ | ■ |
| 12 volt power outlet in rear of centre console | ■ | ■ | ■ |
| Vanity mirror on front passenger sunvisor with cover | ■ | ■ | ■ |
| Chrome interior door handles | ■ | ■ | ■ |
| Aluminium door insert - brushed | ■ | ■ | ■ |
| Driver and front passenger pillar assist handle | ■ | ■ | ■ |
| Front passenger overhead assist handle | ■ | ■ | ■ |
| Rear passenger overhead assist handles with coat hooks | ■ | ■ | ■ |
| Floor covering – carpet | ■ | ■ | ■ |
| HSV floor mats | ■ | ■ | ■ |
| Seating | | | |
| SV Sports seats (Jasmine leather / Windsor suede) | ■ | ■ | ■ |
| Front heated seats | ■ | ■ | ■ |
| Front bucket seats | ■ | ■ | ■ |
| 6-way electric adjustable driver's seat | ■ | ■ | ■ |
| 6-way adjustable front passenger seat | ■ | ■ | ■ |
| Head restraints – driver and front passenger | ■ | ■ | ■ |
| Head restraints – three rear passengers | ■ | ■ | ■ |
| Rear seat centre armrest | ■ | ■ | ■ |
| Storage/Cargo | | | |
| Front dual cup holders in centre console | ■ | ■ | ■ |
| Door pockets with integrated bottle storage | ■ | ■ | ■ |
| Front seat cushion pocket driver and passenger | ■ | ■ | ■ |
| Driver and front passenger seat back pocket | ■ | ■ | ■ |
| Rear seats with 60/40 split fold base and under seat storage | ■ | ■ | ■ |
| Coat hooks (2) | ■ | ■ | ■ |
| Roof console - sunglass holder & dual reading lamps | ■ | ■ | ■ |
| | | | |
| --- | --- | --- | --- |
| Wheels/Tyres | SportsCat | SportsCat Look Pack | SportsCat+ |
| 18" x 10" 6-spoke forged alloy wheels (Matte Black) | ■ | - | - |
| 18" x 10" 6-spoke forged alloy wheels (Matte Black with machined-face) | - | ■ | ■ |
| 285/60 R18 Cooper Zeon LTZ Pro Sports All-terrain tyres | ■ | ■ | ■ |
| Spare wheel - 18" x 10" forged alloy wheel | ■ | ■ | ■ |
| Lighting | | | |
| LED Daytime running lamps | ■ | ■ | ■ |
| Automatic on/off headlights | ■ | ■ | ■ |
| Halogen reflector headlights | ■ | ■ | ■ |
| Manual levelling headlights | ■ | ■ | ■ |
| Chrome headlamp bezel | ■ | ■ | ■ |
| LED tail lights | ■ | ■ | ■ |
| Front LED fog lamps | ■ | ■ | ■ |
| Exterior | | | |
| HSV recover hooks – front (2) | ■ | ■ | ■ |
| Front and rear mudflaps | ■ | ■ | ■ |
| Bonnet Bulge | - | ■ | ■ |
| Black exterior door handles | ■ | ■ | ■ |
| Black exterior mirrors | ■ | ■ | ■ |
| HSV designed front fascia with lower integrated splash tray | ■ | ■ | ■ |
| Black rear bumper | ■ | ■ | ■ |
| HSV upper grille finished in satin black | ■ | - | - |
| HSV '3D' upper grille finished in satin black | - | ■ | ■ |
| HSV wheel arch flares in satin black | ■ | - | - |
| HSV '3D' wheel arch flares in satin black | - | ■ | ■ |
| Soft open tail gate strut | ■ | ■ | ■ |
| COLORADO tail gate applique | ■ | ■ | ■ |
| HSV hard tonneau with load rail provision | ■ | ■ | ■ |
| HSV alloy sports bar | ■ | ■ | ■ |
| HSV sail plane | - | □ | □ |
| Tubular side steps | ■ | ■ | ■ |
| Roof Rails | ■ | ■ | ■ |
| | | | |
| --- | --- | --- | --- |
| Entertainment | SportsCat | SportsCat Look Pack | SportsCat+ |
| Phone projection featuring Apple® CarPlay™ and Android Auto™ | ■ | ■ | ■ |
| MyLink infotainment system with 8" touchscreen | ■ | ■ | ■ |
| Digital Audio Broadcast (DAB+) multimedia | ■ | ■ | ■ |
| Embedded satellite navigation | ■ | ■ | ■ |
| 7-speaker audio | ■ | ■ | ■ |
| Steering wheel mounted audio controls | ■ | ■ | ■ |
| USB input with iPod® connectivity | ■ | ■ | ■ |
| Auxiliary input | ■ | ■ | ■ |
| Roof mounted antenna | ■ | ■ | ■ |
Standard ■ Optional □